According to a widely followed analyst, one cryptocurrency will outperform Bitcoin (BTC) and four major altcoins during this bull run.
Capo, a pseudonymous crypto analyst who has over 180,000 Twitter followers, says bitcoin dominance, which is Bitcoin's market cap relative to the rest of the crypto market, is trending higher, but will likely hit a wall of resistance at the 50.00 level.
The analyst says the last time Bitcoin reached an all-time high, it topped out and then plunged, resulting in altcoins getting a big boost. Capo predicts this may happen again.
"BTC.D update
Not ruling out the move up to 49%-50%
Last time $BTC made a new ATH, dominance kept rising for some days.
Sooner or later it will make new lows. I will hold altcoins until the end of the cycle."

Once capital starts moving into altcoins, the analyst expects Ethereum to massively outperform Bitcoin, noting that its Bitcoin pair (ETH/BTC) is already forming a bullish structure that suggests an all-time high is right around the corner.
"$ETH/BTC
Bouncing hard within a range that looks like reaccumulation. This is a higher low of a bullish structure. I wouldn't bet for the downside.
This is good for the altseason."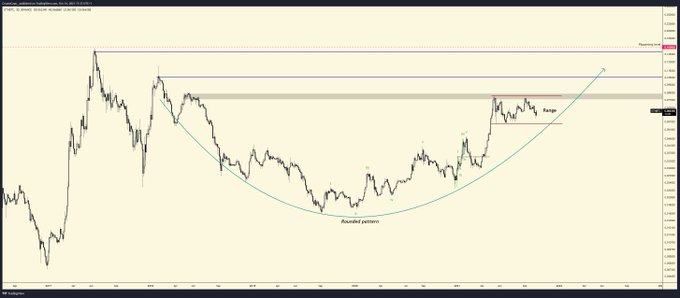 With Ethereum outperforming Bitcoin, Capo next predicts that Cardano (ADA) will outperform ETH, Binance Coin (BNB) outperforming Cardano, and Solana (SOL) outperforming Binance Coin.
The one altcoin that the analyst predicts will outperform them all is smart contract platform Polkadot (DOT).
"Expected performance until end of the cycle:
$DOT > $SOL > $BNB > $ADA > $ETH > $BTC"
Polkadot is currently trading at $40 after a massive recovery from $11 in July, according to CoinGecko.
Ultimately, the closely followed strategist foresees the whole crypto market cycle ending when Bitcoin is trading above the $150,000 level, which is about a 145% move up from current prices.